FKWG is Stealf Soulja's sophomore project. With a host of great EDM/Trap and Hip Hop producers on board, the Washington, D.C. native was able to create a mixtape with EVERY track being a potential banger! From fast paced trap twerk traps to slow paced Cam'ron influenced tracks, he was able to tap into just about every area of interest. The mixtape is full of catchy hooks, sub busters and dope lyrics. With features from the likes of Andy Gruhin, Stefisdope and Pac Div, the tape is sure to catch many by surprise. He's linked up with Kennybeats (prod. 'Party' by Schoolboy Q), B-Dolla (prod. Cry Me a River remix) , Royal (Black Skinhead remix with Alex Young) , iV (TBS' Deon Cole promo music) and The Fresh Republic to name a few producers. FKWG is set to release on September 17th.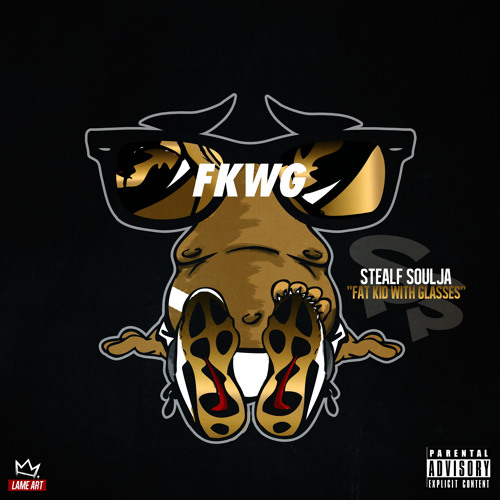 Full interview with Dope Minds after the jump
How did you come up with the name Stealf Soulja? What is the significance of the name? 
I came up with Stealf Soulja when I was like 13. I was the quiet kid in my group of friends but I was just as much of a knucklehead as the rest of them. I was searching for a rap name and the while trying to describe myself I came across those two words. Stealf and Soulja. So I was basically the quiet knucklehead. The spelling was just something I thought was cool as a kid lol.
Describe – FKWG in 10 words.
Loud, creative, hype, breathtaking, dope, lyrical, dope, real, satisfying, surprising. (Yes, I know I said dope twice.)
What makes – FKWG different from other projects out right now?
I would say production. Its not your average rap album production. Got some dubstep/trap in there with some laid back elevator music. I went hard on production and made sure my shit knocked. Mercury worked on a few bangers from the last project. B. Dolla sent Paper Chase and I loved it instantly. One of my favorites came from Raw Syrup. Got a hit from Kenny Beats and the beats I got from Royal and iV (The Fresh Republic) speak for themselves, hell they did most of the tape. I feel like you can con
 I feel like you can connect better because it doesn't sound like anything on the radio right now. It's like every rapper wants to have the sound that another rapper has. I wanted to establish my own sound and try something new.
Where are you from?
Washington, D.C. Southeast to be exact.
How does that influence your music or style?
It makes me spit harder. I see every artist here as competition. Especially the ones I'm a fan of. I hear a new Fat Trel song and I'm like, "Damn, he went in. Time to work". I have three local artists on the project (aside from my boy DTPR) Stefisdope and Don Anthony. I'm a fan of their work so I reached out and they killed on Paper Chase. I also linked up with a dope singer by the name of Andy Gruhin who went to work on Only One. But don't think that they aren't competition because we did a song together.
What's the music scene like there?
So live! We're on our way though. And fast! Everyone has a movement. Everyone has a distinct sound. Joop Troop. Hippie Life Krew. Slutty Boyz. Glizzy Gang. The list goes on. We're about to take over. You can quote me on that.
What inspires you as an artist?
Other artists. The inspiration comes from artists I listen to on the daily basis. Drake, ASAP (the entire mob), Schoolboy Q, Big Sean, Fat Trel, Wiz, Spitta, Sir Michael Rocks, Gambino, Pac Div, Big Krit. Those guys make me go out and cop the hottest beat and write the lyrics I do. I wanna be named amongst those people soon so I gotta stay sharp, feel me? I'm just a student of the game.
How many mixtapes have you put out? 
Just two so far. The original Fat Kid With Glasses that drop December 2012 and FKWG that just dropped.
Do you see your musical direction as a natural progression for you as an artist or the start of a new era? 
I would say a natural progression. Took time and hard work. Wouldn't be mad if it were the start of a new era though.
What were your musical influences growing up?
Well I got into music heavy when I was 11 back in 2000. At the time Em was murdering shit along with Nelly and Outkast. So def them. Then over the next few years I grew into G-unit and my all time favorite Obie Trice. Those were my influences to be honest. I got into Jay, Yeezy and Biggie as I got older.
When did you know you wanted to be an artist?
This is gonna make you laugh but when I was a kid Lil Bow Wow was hot and stole the hearts of every chick my age lol. So I said fuck it. If he can do it then so can I and here I am today.
Tell us about your early performing/creating experiences?
Well I didn't become a solo artist until last year but with my group Jupiter Express aka Joop Troop, I got a few big shows under my belt. New Voices Tour, open mics and 106&Park helped big time. Not to mention the small shows before that. As far as creating, I used to have a tough time creating full songs. Could create a good verse but an ok song. Took time to realize the difference between a good song and a hit.
What elements signify a great track to you?
If you make the ugly face once the beat drops and you catch people mumbling the hook even when the song is over, then you've got yourself a great track.
What is your current favorite track? 
A tie between my song Papi, Yay Yay by Schoolboy Q and 10 2 10 by Big Sean.
What influences your rapping style?
Well I've been told I don't have a distinct style, which is what I wanted to happen. I studied Jay Z and Schoolboy for a while. They never rhyme the same way twice which is dope as fuck to me. So I try my best to switch it up so people can see how diverse rappers can actually be.
Do you think any of current trends in music have long lasting potential?
Dude, other than Molly, I couldn't even tell you a current trend in music other than the beats and that'll die as soon as someone has a hit by a new producer. Then everyone will want the same thing. Honestly, I hope that shit stops.
Talk about your local music scene?
Just so many talented artists here yo. I named a few earlier. I mean obviously Wale cracked the door for us. It's up to the rest of us to kick that bitch off the hinges.
What advice do you have for a beginning artist/rapper/producer? 
Invest in yourself and your craft. It pays off. And don't worry about what someone else is doing. Your time will come.